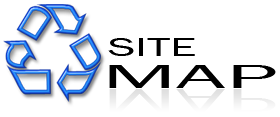 We will show you to generate a complete sitemap of your website whichever be its domain name (domain.blogspot.com or domain.com)
What are Sitemaps?
Sitemaps are an easy way for webmasters to inform search engines about pages on their sites that are available for crawling. In its simplest form, a Sitemap is an XML file that lists URLs for a site along with additional metadata about each URL (when it was last updated, how often it usually changes, and how important it is, relative to other URLs in the site) so that search engines can more intelligently crawl the site. Sitemap 0.90 is offered under the terms of the
Attribution-ShareAlike Creative Commons License
and has wide adoption, including support from Google, Yahoo!, and Microsoft.
How to Begin?

Problem with blog hosting with blogger is that unlike other hosting (WordPress, Jumla, Drupal), you cannot upload any custom files to the blogger. All you can do is just select new post and write text in there and post the blog.

Also the problem with sitemaps in blogger is that google adds only twenty six

most recent blog posts in its sitemaps. So all the posts before these 26 may never be crawled as well as indexed by Google.
How to Generate A Complete Sitemap?

You can find many free sitemap generators, select one of them. I use the sitemap generator developed by Famous Blogger Amit Agrawal
Open Sitemap Generator and enter your site name.

Now Click Generate Sitemap

Copy all the texts you get as generated sitemap.

Now under your blogger dashboard, goto settings -> Search Preferences -> Enable Custom robot.txt option.

Paste your generated sitemap. Now from next time the google search engine crawlers will index your pages.
http://feeds.feedburner.com/Techjhola